Zendesk Roundup
What's new at Zendesk Relate 2023
Interested in what Zendesk announced at Relate? Want to know more about Zendesk AI, Intelligent Triage, Adaptable Agent Workspace and Conversational Commerce? Read my "What's new at Relate 2023" overview and discovered all the new announcements!

What WWDC is for Apple, Relate is for Zendesk. A keynote presentation that not only shows what the company has been working on the past year(s), but also sets the tone for the future vision of the company.
And similar to this years' Google I/O, this keynote can be summarized in three words: AI, privacy and productivity. With the former taking the lead.
Let's dive in!
📥
I compile an overview of Zendesk News every month. If you don't want to miss it, please
subscribe
to the blog. It's free. (Or optionally paid if you really like it)
Every new subscriber motivates me to keep putting in the effort.
Thanks,
Thomas
The presentation started with an intro by CEO Tom Eggemeier. Not only did he announce he's dropping the Interim from his title (congratulations!), he also set the tone for the presentation and announced Zendesk's new tagline.
... it's also a commitment to deliver on the promise of intelligent CX. So, in addition to bringing great products like Zendesk AI and Conversational Commerce to market, we will transform the way we work.

Today I committed to the following:
1. Renewing our innovation focus
2. Increasing our focus on our own customer experience and doubling down on our commitment to delivering on being "customer first"
3. Providing more expertise in CX with a point-of-view on how customers can improve key customer satisfaction metrics, specifically the ones that impact loyalty while simultaneously improving costs.
The intelligent heart of the customer experience
Gone is Champions of customer service. It's replaced with a new commitment that sums it all up:
Intelligent, or driven by AI, ML and data
Heart, sentiment and human connections at its core
Customer Experience. No marketing, no sales, no dev-ops, but customers and agents.
I like the new slogan, just like the new branding it shows a shift from a company focussed on growth and expansion, to a company that's clearly at the top of its game and want to flex its muscles and show its prowess.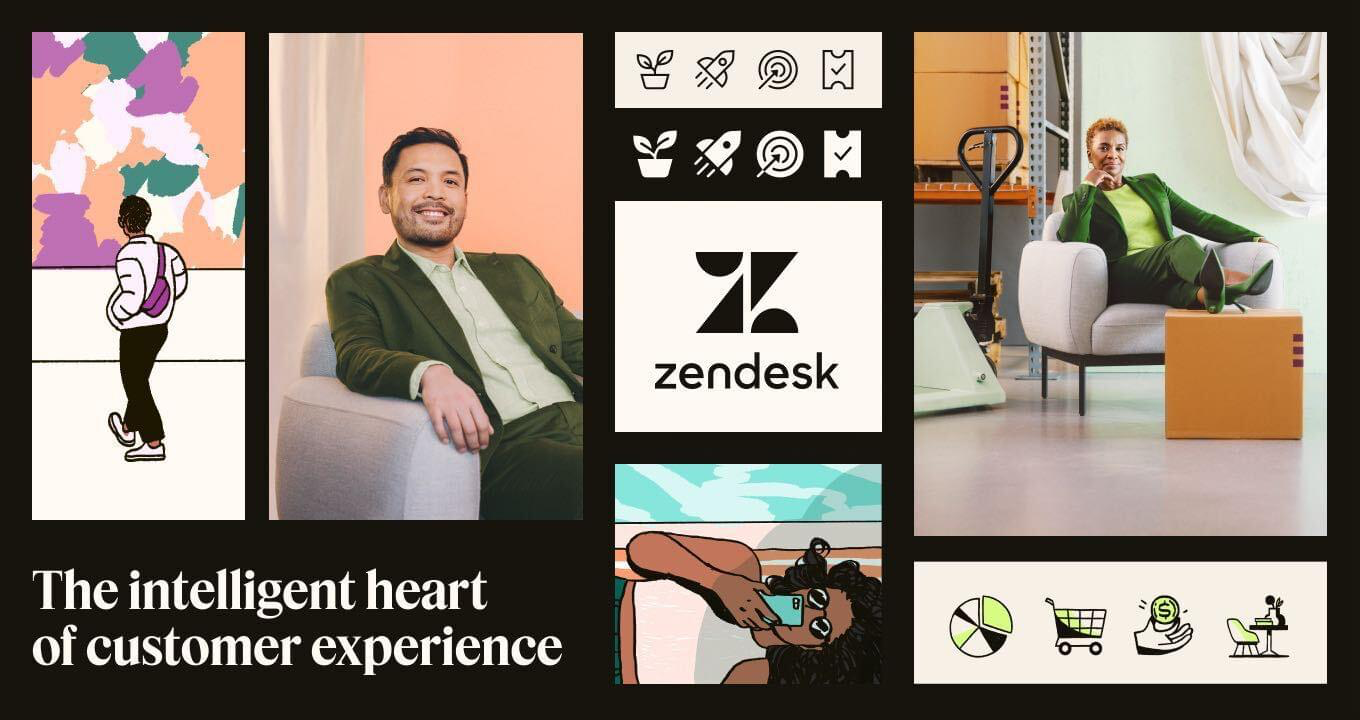 In rolling out the new brand identity, we said goodbye to kale, one of our core brand colours, the 'relationshapes,' and metaphorical imagery we'd used in the past. The new look focuses on the future and the company we represent, with a few key elements that honour our history. Our new primary colours are espresso and cream, and secondary colours are berry and matcha.
It feels like a more mature but still familiar version of the current branding. Quieter colours, a more serious font, but still the same great Z-logo.

Really curious on how this will impact the product UI. Some marketing screenshots (see below) show a different take on Zendesk's Garden design, so really curious how the product design will evolve.
Announcements
Zendesk made three announcements during the presentation, with a few other smaller niceties woven throughout the presentation:
Zendesk AI
A renewed focus on privacy
An adaptable Agent Workspace
🤖 Zendesk AI
What does the customer want and how do they feel?
Naturally, the main focus of the event was Zendesk AI: a new suite of AI and ML capabilities woven throughout the entire product suite.
Zendesk CTO Adrian McDermott positioned AI as a trusted partner, empowering conversational experiences and built on top of your data in a way that combines efficiency and empathy.
He also focused on their new partnership with OpenAI, integrating their generative LLM into Zendesk's core. This allows them to not only use Zendesk AI to detect intent, language and sentiment , but also generate text and summaries based on agent input.
Zendesk trained their AI model on 18 billion tickets and 15 years of ticket history, but then gives each customer a model that's (re)trained on their specific ticket set. This allows them to basically jump-start any customer to get valuable data and content out of Zendesk AI, but will also allow them to guarantee security and privacy. You work with your own data, not others'.
Intelligence in the Panel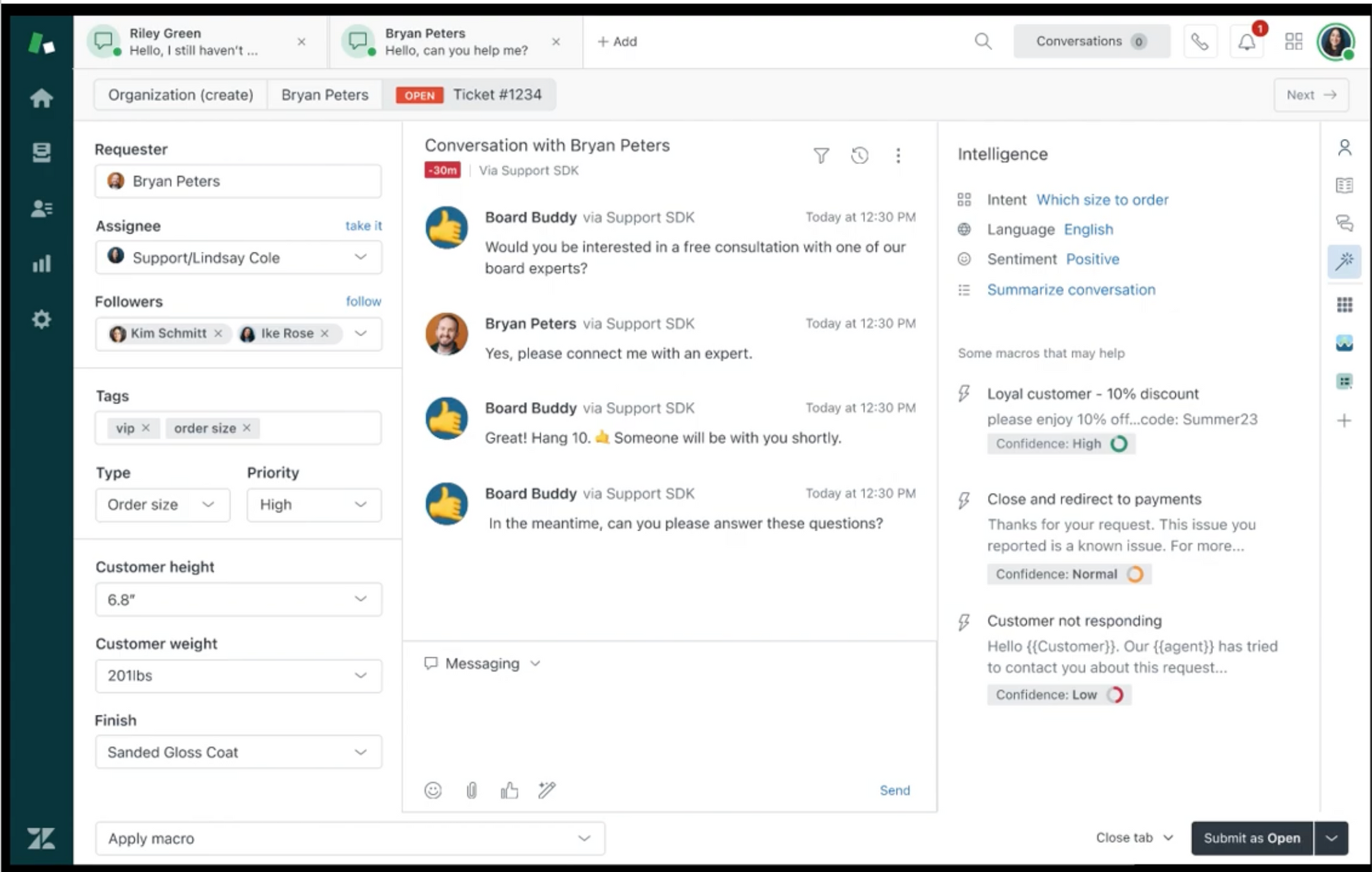 The first big new item was an improvement to the context panel that's shown to the right of your tickets. Zendesk AI will power a new Intelligence Panel.
The panel will show customer intent, sentiment and language and allow the agent to also generate a summary of the conversation to quickly get up to speed.
That same panel will also suggest a list of macros to the agent, accompagnied by a confidence level to show your agents how sure the system is about using macro.
Last month my team at Premium Plus launched a basic summary app on the Zendesk Marketplace. But I'm really glad app is now a native feature. Not only will native be faster, it's also contained within Zendesk and doesn't need external API's, which is a pro for privacy, and the fact that it's AI is trained on a customers' specific data will make the summary even more precise.
I also think this summary feature will make escalations to second line so much easier. No need to read up on half a dozen comments, but a succinct overview of the current state of the ticket.
Enhance Ticket Comments
The comment field gets a new button which allows agents to enhance ticket comments . It'll powered by OpenAI's generative AI and allows agents to quickly jot down a solution or response, and then use Zendesk AI to turn it into a good reply for their customer. (in theory)
The Enhance ticket comment feature offers three options:
Expand: turn a short sentence in a longer message with additional context taken from the conversation.
Make more friendly: Turn a factual reply into a more casual or conversational message.
Make more formal: Turn a reply into a more professional tone.
The whole idea of generated emails like Google does, or now Zendesk, still feels a bit weird to me. I keep thinking we'll end up in an absurd scenario where:
Customer has an issue and writes a three sentence email and uses ChatGPT to expand that into three paragraphs of text.
Zendesk receives email and an agent uses Zendesk AI to turn email into three sentence summary
Agent replies in three lines and uses Zendesk AI to turn it into three paragraphs of text
Customer receives reply and uses ChatGPT to summarise the reply. into three short lines again.
With a lot of wasted bits in the middle and some nuances getting lost in translation. But I understand the benefits too. We all wrote that short email at 4:55PM before we leave the office which could have been a nicer written email when you reread it the day after.
Intelligent Triage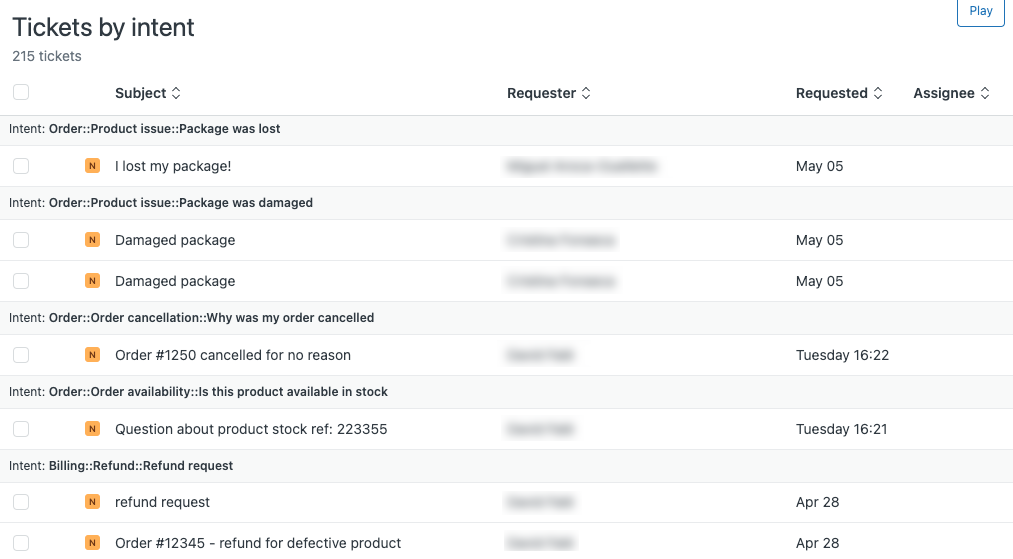 Intelligent triage enables the Zendesk ticket fields for intent, language, and sentiment predictions and confidence, which you can then use for setting up views for teams, automating with triggers or automations, and enhancing Explore reports.
The same values for sentiment, intent and language that are shown to the agent in the context panel, are also available for use in triggers or views:
Language works similar to the existing language filters (although I wonder if it's the same dropdown but with better detection or a full replacement?).
Sentiment is a good, bad, ugly kinda categorisation where you can then sort, assign, or set priority based on the customers' sentiment as detected in the comments' received.
Intent is a bit more tricky. It basically replaces your typical Category dropdown with a set of ~100 predefined intents for specific industries. You can then use these intents to create specific views, or route tickets to specific agents. (If you're outside of these specific industries, you'll get sentiment and language, but no intents if I understand it correctly.). The intents are: Retail and e-commerce, Software platforms or applications and Finance services.
Whenever I set up a Zendesk instance I'm a big proponent of a Work to be done approach to views. Have one view with open tickets sorted by SLA with the most urgent one is at the top, and train agents to get that inbox to zero by hopefully solving inquiries, or replying and moving tickets to pending.
Intent based views are a completely different approach. Agents work in a categorised based inbox to handle tickets, instead of one sorted by priority. But I'm sure that, by combining both approaches, this new intent training will sure lead to benefits. Can't wait to play around with this one.
Advanced bots with pre-trained intents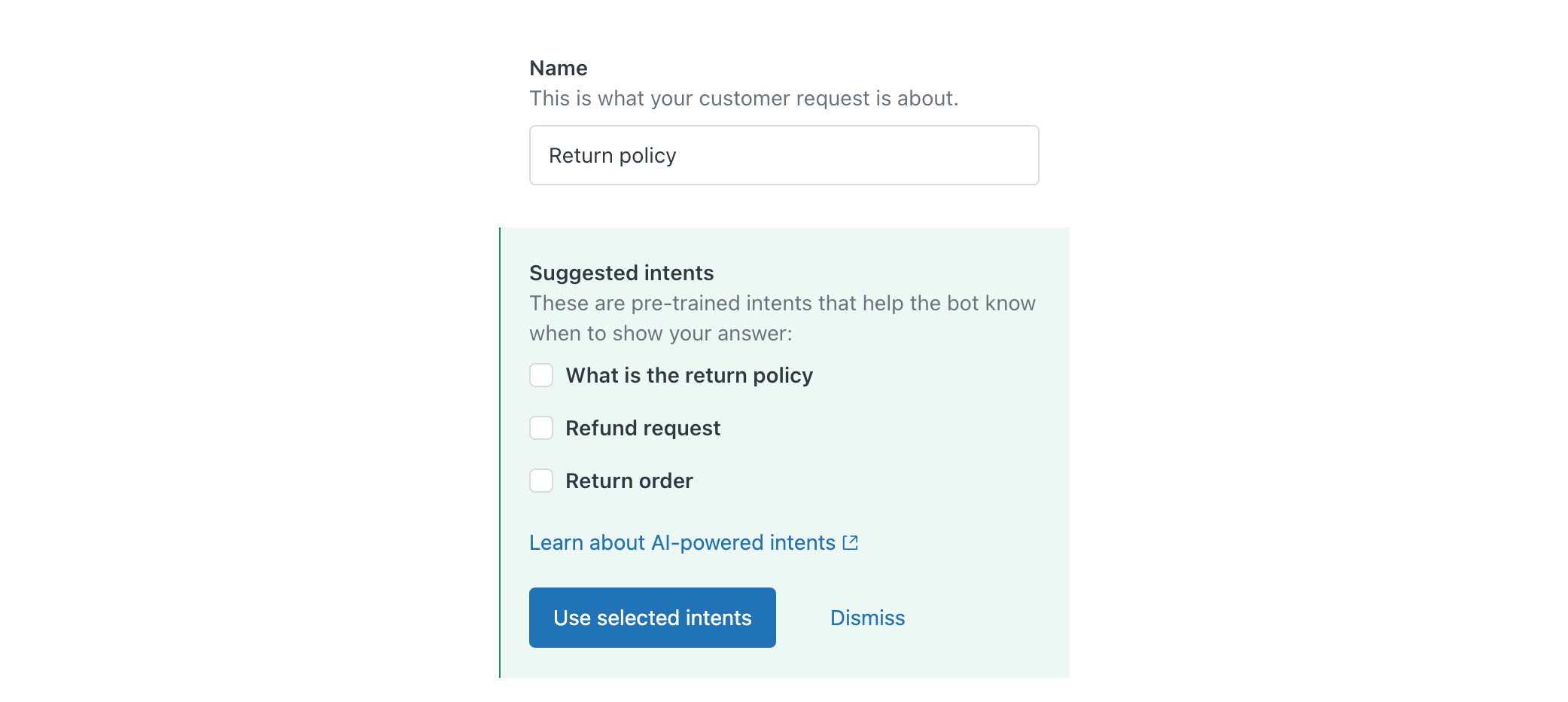 If you give a bot another name, does it still reply the same?
Zendesk used this Relate to clean up its ticket deflection offerings. All Zendesk customers get access to the standard Zendesk bot that includes a conversation bot (the old Flow Builder) and Autoreply (what used to be Answer Bot).
Customers that have the Advanced AI add-on get access the the advanced Zendesk bot that includes pre-trained intents and intent tagging.
These pre-defined intents allow you to create dedicated autoreply triggers for specific intents. E.g. if Zendesk AI detects an email about "How to I return a product", you can create a specific email with information that gets send as a reply to those customers. All other customers still get the three suggested articles reply we know from Answer Bot.
The advanced bot announcement has two main parts to it;
Part one, the rename, seems logical. The more bots are there on the market, the more having a platform-owned bot that's named Zendesk Bot makes sense. It's similar to Google Maps, Apple TV or Facebook Messenger. If your primary product is also your company name, it's free branding and removes confusion. It's the same reason why, personally, I don't have an issue with the optional Powered by Zendesk footer in the Messaging widget.
The second part is a bit more complex. Where other companies like Ultimate have intent training and reporting as a core part of the product, Zendesk makes it an add-on. Naturally, Zendesk AI will improve their bots' capabilities, but one might wonder why the standard bot doesn't come with this pre-trained set of intents.
Conversational Commerce

Jonathan Aniano, SVP Product, started this section of the presentation showcasing a nice extension of the conversation bot which integrates Shopify into Messaging.
Whenever a customer inquires about a product, Zendesk AI interprets the conversation and, when applicable, will show a carousel of products to the customer instead of e.g. a list of Help Center articles.
Or, based on the customer sentiment, they can also automatically offer a discount, or make sure that, if an agent is needed, they can route the conversation to the right agent. That same agent then has the Shopify Zendesk integration running and can quickly update, refund or discount a customers' order.
As a technology demo of what should be possible today, this seemed like a pretty cool flow to have running inside your retail organisation.
However, just like other Messaging demo's we saw at Relate Events these last few years which showcased delivery services, shoe stores and other Sunshine Conversation integrations, I do wonder: how much of this works out of the box, and how much is complex code and how fast is this deployable?
The fact that Zendesk setup a new Labs experience for companies to book workshops makes me think this involves a bit more code than the demo let on. However, once it works, this seems really cool and nicely combines Messaging, bots and Agent Workspace.
Add-ons and Pricing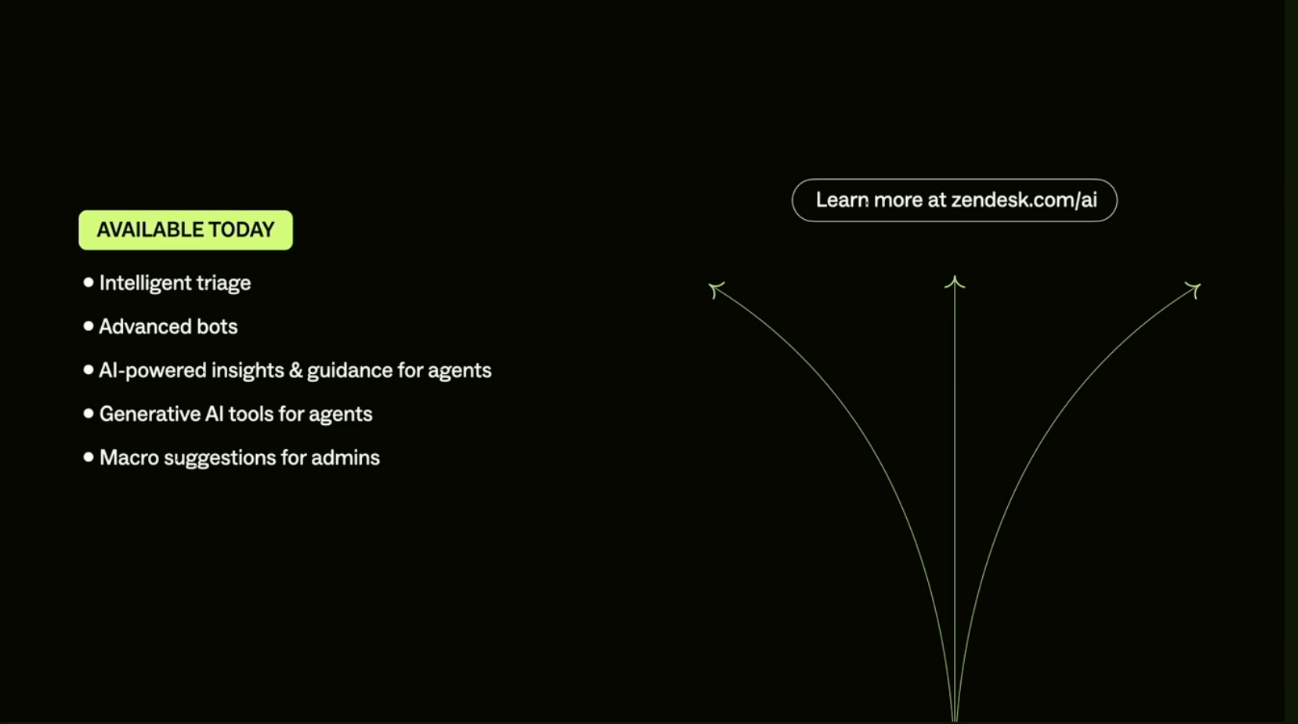 While writing Internal Note, I try to stay away from pricing and sales, since I'm a developer at heart, and I rather discuss value and impact, than dollars and margins.
But it seems a bit contradictory that, at the same time Zendesk shifted the focus of Zendesk as a product towards being the intelligent heart of the customer experience, in reality, everything announced related to Zendesk AI is gated behind a new add-on: Advanced AI which cost 50$ per agent/month. And this is on top of the just announced price increase across all license types.
If have one piece of critique about last week's presentation, it's the fact that price was never mentioned, and the word add-on was only mentioned once, and even then, just barely.
Giving every customer their own AI model, that is continuously trained, gets expensive fast and probably not every customer needs these advanced AI capabilities. So a price increase across the board to cover these costs and give every customer these Advanced AI features might not be feasible or even necessary.
But it's a bit of a shame that "available today" means "as an add-on" and not "core part of our offering", and pricing or add-ons were not transparently mentioned in the presentation. One slide with the following would have been nice, and a bit more transparant I think:

Regardless of pricing or the approach on how they market it, the new offering is pretty straightforward: Zendesk offers two levels of AI functionality to meet your business needs:
Zendesk AI, included with Suite Professional and Enterprise plans
Zendesk Advanced AI, available as an add-on for Suite Professional and Enterprise plans
Zendesk AI
Nothing new to see here, these existing features are basically rebranded into Zendesk AI.
Standard bots (formerly known as Answer Bot and Flow Builder)
Suggested macros for agents
Content Cues for content managers
Zendesk Advanced AI
All the new goodies:
Advanced bots with pre-trained intents
Intelligence in the context panel
Enhanced ticket comments
Intelligent Triage
Macro suggestions for Admins
🔒 Privacy
This slide was the best part of the entire presentation for me.

Shared commitment to lead the way with new AI trust and privacy standards based on choice, transparency and AI that enhances protection.
Building Responsible AI
Zendesk outlines its approach to responsible AI in the article below. I'm glad a company takes the time to write about impact, instead of only hyping features.
https://www.zendesk.com/newsroom/articles/building-responsible-ai/
What's especially cool is that, if I understand it correctly, the Zendesk AI models are partially powered by OpenAI's models, but run entirely within Zendesk's infrastructure and are (re)trained on a each customers' own dataset. Customers that don't want to contribute to the main models can opt-out, and Zendesk commits to being transparant on how and when it gathers anonymised data to train its AI.
Advanced Data Protection
In a nutshell: if your company requires their own encryption keys (BYOK), there's now an Advanced Encryption add-on available in EAP that allows you to encrypt (part of) your Zendesk environment with your own keys and broker.
https://www.zendesk.com/blog/advanced-encryption-zendesk/
⚙️ Adaptable Agent Workspace
What does the customer want? How do they feel?
Who can help them the fastest?
This brings us to the last part of the presentation: Adaptable Agent Workspace.
In this section we were shown improvements in Agent Workspace that basically turned a set of existing capabilities to 11, empowered by AI.
Intelligent Triage and Realtime Capacity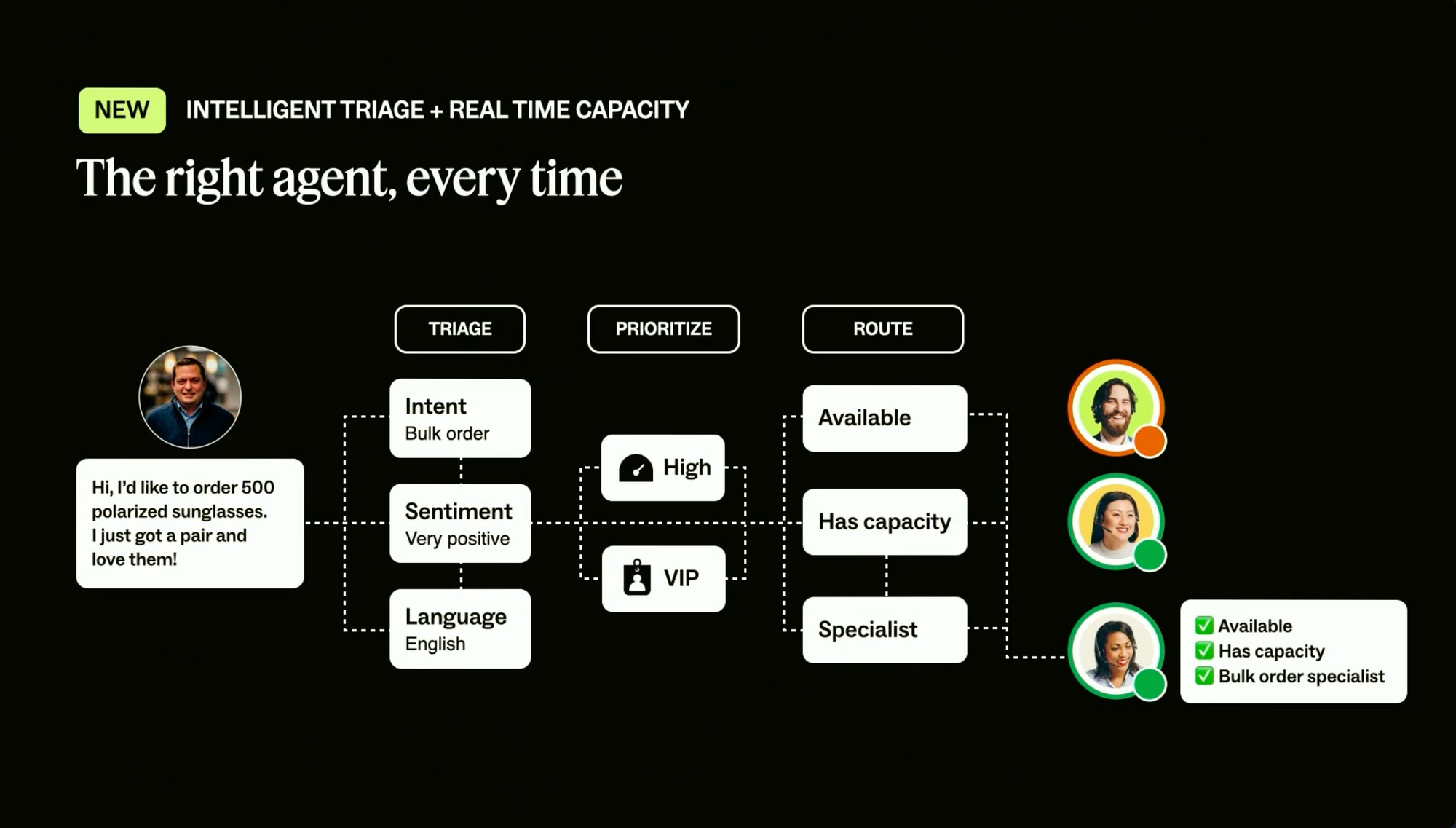 The first announcement in this section combines all the development Zendesk has done these last years with regard to skill based routing, agent availability and -omnichannel routing and makes them more powerful thanks to Zendesk AI.
This new set of business rules will allow you to take a conversation and route it to the best agent to handle the case, based on a combination of intent/language/sentiment, SLA, user identity and routing rules.
Implementing this feature, or the current omnichannel routing for that matter, does require a mind shift for your CX team. Where FIFO or longest waiting customer, and assignment to "French team", or "Second Line" are how most teams are setup, this new flow breaks down these big flows and turns each conversation into a unique scenario that routes to agent based on weights and availability instead of groups and generic rules.
Macro Suggestions for Admins
Suggested macros for agents. Macro suggestions for admins. Two sides of the same coin, and if you weren't confused by reading the sentence once, you can try again with Zendesk's own explainer below. Naming things is hard 😅
Tip: Macro suggestions and suggested macros are different, though related, features:
Macro suggestions are suggestions made to admins about new macros that could be created based on repeated content from all agent replies in your account.
Suggested macros are suggestions made to agents about which existing macro to apply to a ticket based on the content of that specific ticket.
All kidding aside, this is a cool feature. Zendesk AI indexes all your tickets, and based on Intents that occur regularly, and agent comments on those tickets, Zendesk will suggest new macro's to your admins with pre-generated text (thanks OpenAI!) and they can approve and deploy these new macros with a click of a button.
It's not clear if these macro's are just text, or if they also include status or other custom fields.
Sneak Peak: Admin Home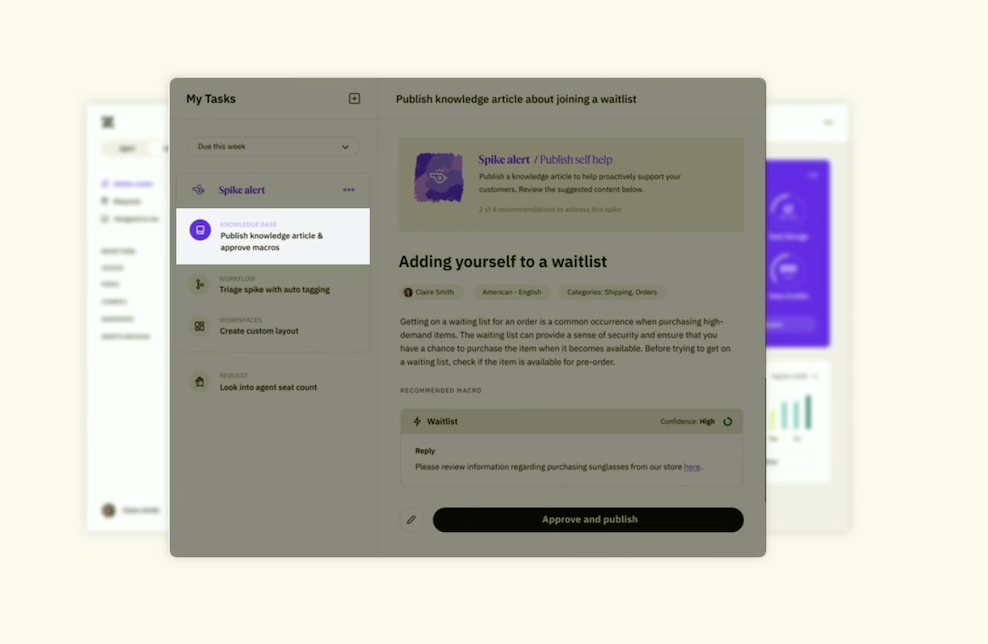 To conclude the announcements for Agent Workspace we got a sneak peak at the new Admin Home and the new Spike Alert feature.
In a nutshell, whenever Zendesk AI detects a spike in tickets related to an issue (say: Shipping delays or server downtime), the Admin Home will show a list of proposed things the Admin can implement to deflect tickets, help customers and lower the load on your agents:
Al-generated workforce management
Zendesk will automatically assign agents to specific channels and intents based on their skills so the best agents are assigned to those tickets to handle these tickets efficiently.
Al-generated knowledge base article
Based on Agent replies on those tickets the system will not only suggest macro's but will also write a Help Center article to publish, powered by OpenAI
AI Generated Layout builder
The Agent Workspace layout will adapt its UI to give agents looking at these kind of tickets the necessary apps and context. If you get a spike in order inquiries, the shopify app will be front and center. When user authentication goes down, your app to validate user profiles will be visible,...
It's clear that, at least for customers buying Zendesk Advanced AI, it's clear we're moving away from the old triggers and views based Zendesk to a more automated system that basically does for Admins and Agent with managing tickets, what Zendesk Guide and Self Service does for Customers: proactively offer the right information and tools to prevent and/or easily resolve issues before they escalate. I'm really curious where they take this.
Also, this UI looks and feels entirely different from what we know and recognise as Zendesk today. It's probably part of the new style and branding, and I'm curious how this will trickle down to the Agent Workspace and ticket interface.
Sunshine Platform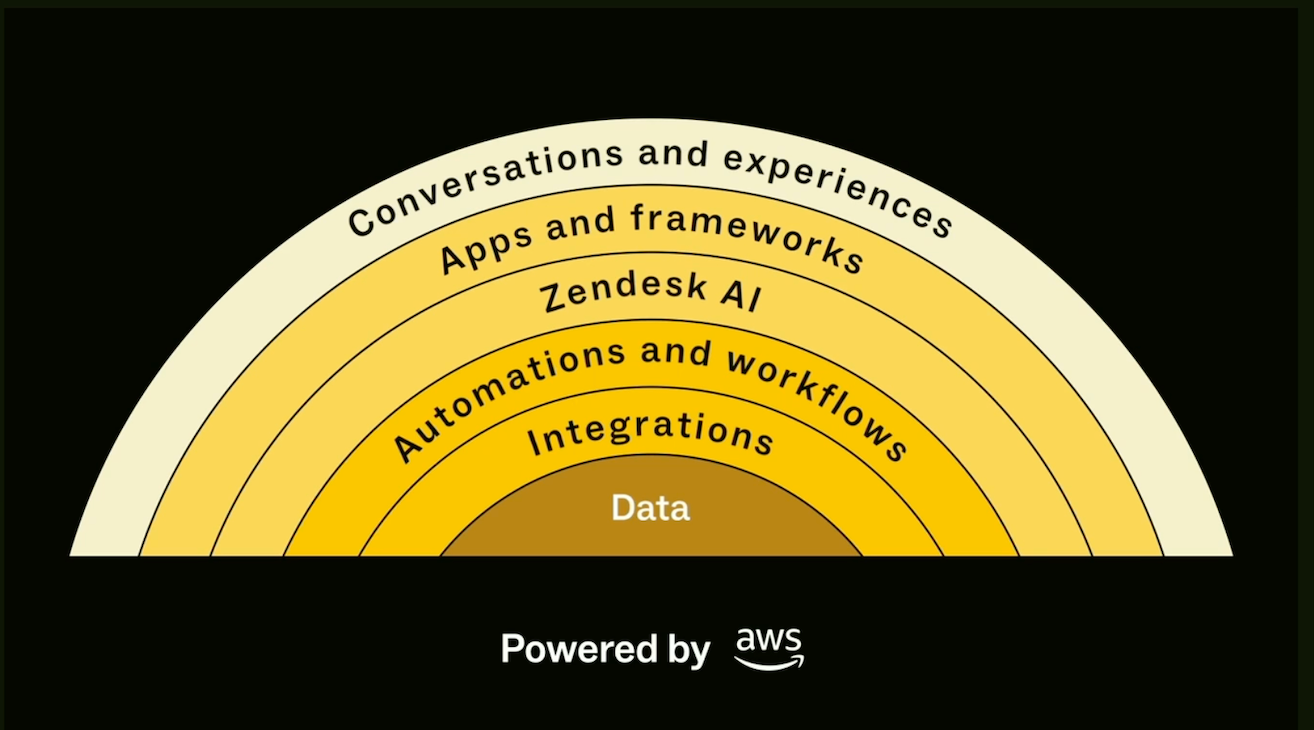 Bandar El-Eita, Senior Director of Product Marketing, started the Adaptable Agent Workspace section of the presentation with this overview of the Zendesk Platform.
I might be reading things that are not there, but I sure hope the fourth ring shown on the slide means that, sooner or later, we can developer against https://subdomain.zendesk.com/api/ai and use Zendesk' AI to build integrations and custom apps powered by a customers' own data and without sharing any of their data outside of Zendesk.
One can hope...
🥳 Conclusion
Three thousand and something words later, and I've barely scratched the surface of what Zendesk announced this Relate. As a fan of the product, I can't wait to play around with these new features. And as CTO of a Zendesk Premier Partner, I've already started mapping features to customers and see who could benefit from what.
The (lack of) clarity about price and value in the presentation will surely turn a few initial smiles into frowns. Nobody likes to be shown nice things without up front risks and costs, but once the dust settles and Zendesk AI becomes the new normal, these ML powered capabilities will change the way customers and agents interact and work.
Secondly, I do wonder how Zendesk as a product will evolve from here on after. It's clear that Zendesk is no longer the company of tickets and self service, but is now a company focussed on conversations and automations at a human level, deeply integrated with AI. But similarly to how an iPhone user has arguably a worse experience without an Apple ID, or without paying for iCloud storage, I wonder if Zendesk AI is the start of a similar schism. Customers with AI enhanced environments, and legacy customers' without. Clearly, Zendesk's argument here is that the former will deliver the better CX experience of the two.
But I wonder if, in the future, those Advanced AI customers will get a better Zendesk product experience too. How much product R&D focus will go to the old way of views, triggers and custom fields, and how much product attention will go to Zendesk AI? Only time will tell, and Zendesk AI is only a first big step into the larger world of Intelligent CX.
Really curious where they take it from here.
🥳
Thanks for reading this article and the blog. If you liked this content, please consider subscribing and share this article to your colleagues.